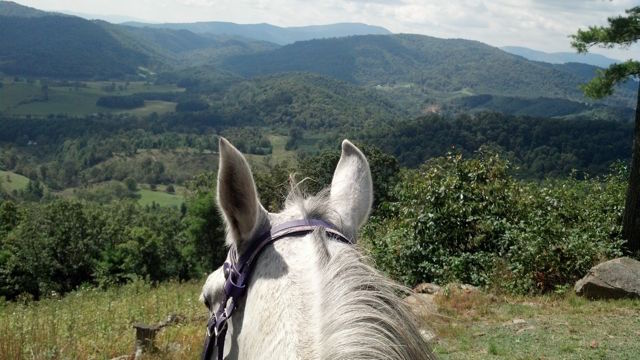 The Iron Mountain Jubilee is a beautiful, challenging but doable and enjoyable mountain endurance ride. The trail is strenuous so horses should be fit. The scenery is breathtaking!! The weather can range from warm to quite cool, especially at night , so come prepared. You will be riding primarily the Virginia Highlands Horse Trail and the Iron Mountain Trail with several connecting trails.
RIDE CAMP AT TRIPLE C LOCATED AT 4104 CRIPPLE CREEK ROAD, CRIPPLE CREEK , VA. PLEASE GO TO THE ENTRY & INFORMATION PAGE TO DOWNLOAD DIRECTIONS. Do not rely strictly on your GPS!!
This is a mountain ride and the real race is with the TRAIL and negotiating it with safety and efficiency will be the key to success. Use strategy in your ride plan to maximize your horse's energy and enjoy the journey along the way.
The terrain features some long climbs interspersed with good moving out areas, if the terrain says trot, then trot. You won't want to waste time, here's where the saying "never hurry, never tarry" will serve you well. The footing is variable with good footing mixed with some rocky areas and sections of gravel road.
Hoof protection of some kind is required for the 50/100 mile distances and highly recommended for the shorter distances. Also Helmets are required for all riders as per our Forest Service permit!!
Please be freshly shod or if you use boots, have the bugs worked out at home. There will be a farrier and treatment vet on site. Payment is the responsibility of the rider/owner.
PROCEEDS FROM THE RIDE WILL BENEFIT THE THE BACK COUNTRY HORSEMEN OF THE VIRGINIA HIGHLANDS TRAIL FUND (HELPING THE TRAILS HERE AT MT ROGERS) AND THE GARRIE BATES MEMORIAL FUND (TO HELP JUNIOR RIDERS IN AERC AND NATRC).
HELMETS ARE REQUIRED FOR ALL RIDERS
HOOF PROTECTION REQUIRED FOR DISTANCES LONGER THAN 30 MILES AND HIGHLY SUGGESTED FOR THE LDs!!
The Iron Mountain Jubilee is sanctioned by AERC, SERA, ECTRA, SEDRA, R&T Assoc.
DATES- August 25- 25/50 mile rides & August 26, 2021- 30/50/100.
Vet -In starts Thursday 8/24 at 2PM
RIDE MANAGER- Nancy Sluys- 336-351-4753, 336-325-8886 (cell) email- minglewood@surry.net
RIDE SECRETARY- ERIC RUETER - Eric@FleetFootFarm.com
VOLUNTEER COORDINATOR- Kelly Nunn - email- nunnmom5@yahoo.com
TREATMENT VET- Robert Marshall DVM
VET STAFF- HEAD VET- Nick Kohut DVM, Ann Stuart DVM, Duane Barnet DVM

100 Mile Away Vet Check- Amy Spies DVM, Vicki Bochynek DVM
100 Mile 10 minute Hold- Art King DVM
RIDE FEES- All entries must be received by 8/15 to avoid late fee!! - Adult- 125.00 for the LDs and 50s and 215.00 for the 100. Juniors ride free in honor of Garrie Bates who was a champion for the junior rider! Late fee after 8/15 is $25.00. If mailing entry must be postmarked by 8/15 to avoid a late fee.

You can download a mail-in entry form on our Entry & Information page or to enter online go to https://www.seraonline.org/SERARideDetails.php?event_id=411
THE HIGHLANDS CUP 100 MILE RIDE- This year we are introducing the 100 mile distance in preparation for the 2024 Arabian Horse Association Distance Nationals! Come check out our beautiful trail!! This ride will be a challenging but fair and doable hundred. This is the mountains so there will be climbs but we have laid out the course to avoid some of the longer climbs you remember from the past and the footing will be awesome on most of the trail! The Back Country Horsemen of the Virginia Highlands have done a rehab on a good portion of the new loop (as well as our past work on the ride loops) and all the trails in general are in great shape. You will not find better footing on a mountain ride anywhere!! The scenery is spectacular!!
There will be 2 away vet checks both in the same location and crews will be allowed. Crews please carpool if possible as parking will be tight. We will have volunteers to assist crewless riders.
CAMPING- Camping at Triple C is primitive in a field. There are no stalls available. Please be prepared to stable your horse at your trailer with portable corrals, pens, tying to the trailer or high tie (no trees available for tying).
The field is slightly sloped so bring levelers for your trailer wheels. Please come with your water tanks full. We will have plenty stockpiled but most of the water will be hauled in by the fire department and our volunteers, since we are on an old well, so please don't waste water, thanks!
Please see a parking attendant before parking your rig.
Please collect manure in your tubs and someone will pick it up with a spreader. If you are in an outlying area you can scatter you manure. If your horse digs up his area at all there will be grass seed available for you to spread. Please leave no trace, this is our private place and we will be the ones that will have to clean up any messes in the end.
ICE- WE WILL NOT HAVE ICE ON SITE! PLEASE BUY ICE BEFORE YOU COME. THERE ARE SEVERAL NEARBY STORES LISTED ON THE GENERAL INFORMATION PAGE YOU CAN DOWNLOAD FROM THE ENTRY & INFORMATION TAB.
WEATHER- This is the Virginia Mountains! The weather here is usually beginning to cool off at that time of year. The highest temperature for our ride over the past decade was 84 the lowest was 45. The average high temperature for the ride is 79. We have historically had very little rain on the weekend of the ride but this year has been different so you never know, be prepared.
FARRIERS-- Jen Smith- 757-870-5918 or email steelsidedown@yahoo.com if you need to make an appointment before the ride
Mikayla Nunn Young- Away Vet Check Farrier
***FOOD- WE WILL BE SERVING DINNERS FOR RIDERS AND VOLUNTEERS!! MENU WILL BE POSTED CLOSER TO THE RIDE BUT WILL INCLUDE VEGETARIAN AS WELL AS GLUTEN FREE OPTIONS AND IS ALWAYS AWESOME! MEAL PROVIDED FOR THE DAY YOU RIDE EXCEPT FOR 100 MILERS WHO EAT THE NIGHT BEFORE THEIR RIDE. EXTRA MEALS 15.00. PLEASE INDICATE ON ENTRY FORM.
VET CHECKS & CREWING- ALL VET CHECKS WILL BE IN CAMP WITH THE EXCEPTION OF THE 100 WHICH WILL HAVE AN AWAY VET CHECK LOCATION FOR 2 CHECKS (same location). MOST OF THE CAMP IS CLOSE ENOUGH TO THE VET AREA TO CREW FROM YOUR TRAILER! WE WILL ALSO HAVE A CREWING AREA SET UP.
WATER- Please do not waste water!!! Most of your water is hauled in, especially at the vet check. We will have enough for everyone but please use common sense. At the vet check please use the sponge and scrape method to cool your horse! Nothing is more disheartening to our hard working water crew than to see someone dumping buckets of water on a horse and ground. If you need to pour water on your horse please use a scoop and be conservative.
Please arrive with your water tanks full.


DOGS- please leash your dogs for the safety of everyone.
AWARDS- There will be will be completion awards for everyone who finishes their distance. Day 1 will be your photo by the fabulous Becky Pearman and day 2 will be a special ride t-shirt. Other awards will include 1st to Finish, Top Ten, BC, High Vet Score, 1st Junior, 1st Young Rider, Turtle, Middle of the Pack and our unique IRON HORSE AWARD for the horse and rider teams completing both days of the 50 mile rides for a total of 100 miles (same horse, same rider).
Bon Fire, music and stories on Saturday night after awards. All are welcome!! Come hang out and stay up to cheer on the 100 mile riders!!!
BENEFIT TACK SALE- There will be a used tack sale to benefit the Back Country Horsemen of the Virginia Highlands Trail Fund to be used for trail improvements in the Mount Rogers NRA. The sale will be set up next to the check-in booth. Donations of clean usable tack and other horse related items will be gladly accepted. If you have something big like a saddle then we will keep 10% and you will get the rest.
We will also have a BCHVH Arts and Crafts Booth with crafts made by our members. Please support them and a portion goes to the BCHVH Trail Fund.
DIRECTIONS- The address for Triple C is 4104 Cripple Creek Road Cripple Creek, VA. do not use GPS unless you know where it is sending you. Some roads not suitable for trailers. Please use directions provided by the ride. Downloadable directions are available on the Entry and Information page.